Timothy C. Evans, chief judge of the Circuit Court of Cook County, will deliver a talk on the state of justice in Cook County during an Oct. 20 event at Northeastern Illinois University's El Centro location, 3390 N. Avondale Ave. in Chicago.
The event, which is co-sponsored by the Greater Avondale Chamber of Commerce and the Portage Park Chamber of Commerce, is free and open to the public. The event begins at 5:30 p.m. with a half-hour social period. Evans' talk will begin at 6 p.m. and conclude with a question-and-answer session. Seats are first-come, first-served, and parking will be free.
The Circuit Court of Cook County is the largest of the 24 judicial circuits in Illinois and also one of the largest unified court systems in the world.
Evans was first elected chief judge in September 2001 by unanimous vote of the circuit judges. His efforts include critical changes to the bail-setting process, a new Domestic Violence Courthouse, and the creation of court-wide divisions dedicated to hearing only domestic violence matters and elder law matters. He also has significantly expanded the use of specialty/treatment courts dedicated to mental health treatment, veterans support, drug treatment, and support to persons charged with prostitution.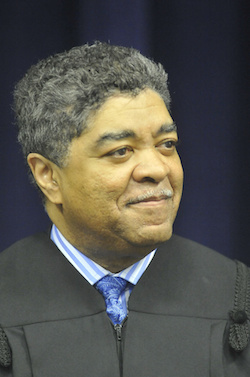 Chief Judge Timothy C. Evans