With a ceremonial scoop of the shovels, Northeastern Illinois University broke ground May 14, 2015, on the first residence hall in the University's history.
"Today marks a milestone in our commitment to student life and to student success, inviting both our current students and additional students from near and far to join our special university," President Sharon Hahs said. "Student housing complements our excellent academic programs, fosters a greater sense of community for our students, and strengthens our transformative educational experience for all."
The residence hall, which will house 440 students when it opens in fall 2016, will be built on the Main Campus, just south of the Parking Facility. The residence hall will contain typical amenities such as student lounges, game rooms and a fitness center. Every apartment will come furnished with a full kitchen, and every floor will have laundry facilities and private study rooms.
"This residence hall will give students the opportunity to live and learn in a dynamic community, on campus, close to their classes, faculty, campus activities, friends and support services," said Frank E. Ross, Vice President for Student Affairs. "Our residence hall will lead to increased student engagement and success. Student housing is going to be amazing."
Student Government Association President Nicholas Martinez praised Northeastern for the move that will provide educational opportunities to a broader array of students.
"With its expanding diversity, Northeastern has answered the call by truly allowing everyone the opportunity to learn in the city and lead in the world, regardless of what part of the globe they come from," he said. "Northeastern is now opening the gates to provide everyone with an environment where they learn, belong, achieve, transform and lead."
The introduction of student housing is a part of Northeastern's broader Decade of Dreams master facilities plan that also includes a new education building, expansion of the Pedroso Center and a new mixed-use building.
Northeastern is the last Illinois state university to add a student-housing program.
"No longer 'just' a commuter institution, Northeastern will be able to offer student housing and win the attention of all those prospective students who have eliminated the University from consideration based simply on an absence of student housing," Northeastern Board of Trustees member Jonathan Stein said.
The University is working with American Campus Communities (ACC) in the design, development and management of the student housing project. ACC has established itself as a leader in quality student housing communities nationwide. It has developed 95 student housing communities totaling more than 62,500 beds, including 72 on-campus communities totaling approximately 48,500 beds.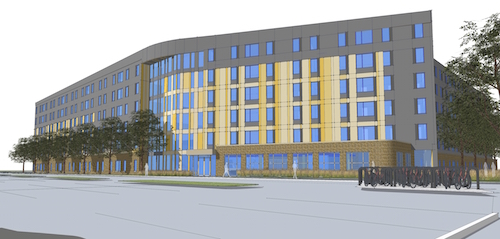 Top photo, from left: Steve Crawford of American Campus Communities, Trustee Jonathan Stein, President Sharon Hahs, Vice President for Student Affairs Frank E. Ross, Student Government Association President Nicholas Martinez
Bottom photo: Rendering of the residence hall