The current monkeypox outbreak is a public health concern. Anyone can get monkeypox, but it does not spread easily between people. Monkeypox is much less contagious than COVID-19 and is much less likely to be deadly than COVID-19. There are vaccines and treatments originally developed for smallpox that work on monkeypox. Public health authorities are monitoring the current outbreak situation and are working to stop the further spread of monkeypox. If we all know the facts and work together, we can help to stop the spread. It is important that everyone has correct information in order to make the best-informed decisions to protect their health and the health of our community. 
The risk to most people remains low, but knowledge empowers us all and keeps us healthy. Review monkeypox information from the Centers for Disease Control and Prevention (CDC) and Get the Facts: Monkeypox from the Chicago Department of Public Health (CDPH). Additional resources and details are available at chicago.gov/MPV.
What is monkeypox?
Monkeypox is a rare disease caused by a virus similar to smallpox, but less severe. It is not a virus commonly seen in the U.S. However, the recent 2022 monkeypox outbreak has spread across the U.S. and worldwide. 
What are the signs and symptoms of monkeypox?
A new or unexplained rash, which may look like pimples, blisters or sores and may be painful or itchy
Fever, chills or swollen lymph nodes
Fatigue or muscle aches
Review more signs and symptoms of monkeypox on the CDC website. 
How do you get monkeypox?
Monkeypox can spread to anyone through close, personal, often skin-to-skin contact.
Monkeypox risk factors include:
Direct contact with an infectious rash, sores or scabs from a person with monkeypox
Direct intimate contact with a person with monkeypox
Contact with objects, fabrics (clothing, bedding or towels) and surfaces that have been used by someone with monkeypox that have not been disinfected
Contact with respiratory secretions through kissing and other prolonged face-to-face contact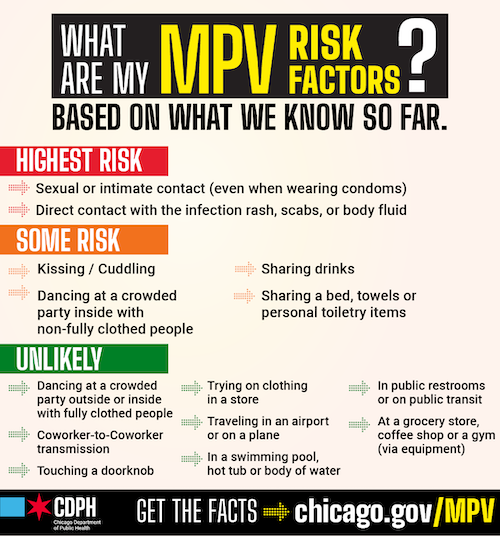 How can you protect yourself from monkeypox?
Wash your hands often with soap and water or use hand sanitizer.
Use disinfecting wipes to clean surfaces that may have been contaminated.
Avoid skin-to-skin contact with anyone who has a rash that looks like monkeypox.
If you are sexually active, talk to your partner about any recent illnesses and be aware of any new or unexplained rashes on either of your bodies.
Avoid kissing, hugging, cuddling or having sex with anyone with monkeypox.
What can you do if you think that you have been exposed to monkeypox?
How can you prevent spread to others if you have symptoms or are sick with monkeypox?
Stay home and contact your healthcare provider.
Get tested for monkeypox.
Avoid close contact and wear a mask around others until the rash has fully healed (usually 2-4 weeks).
Wash your hands often. 
Launder and disinfect items and surfaces before use by others.
What is the treatment for monkeypox?
Talk to your healthcare provider about specific antiviral treatment.
Many people get better without any treatment.
Questions? Concerns? 
For questions or concerns about monkeypox, contact:
HIV/STI Resource Hub (LGBTQ+ Call Center): (844) 482-4040
CDPH Call Center: (312) 746-4835
Student Health Services: (773) 442-5800 or health-services@neiu.edu