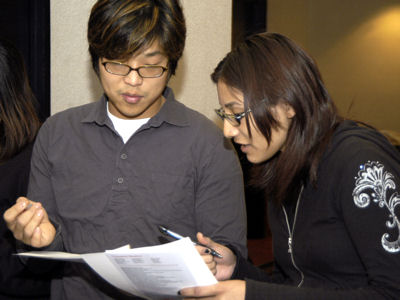 The following information includes the requirements, application process, responsibilities, and benefits of becoming a First-Year Experience (FYE) Peer Mentor. Participating in the program itself is very rewarding, but you will also gain leadership skills that will be an added benefit to your resume.
So, if you enjoyed your First-Year Experience course and would like to give that awesome experience to future first-year students, keep reading!
Requirements
To be an FYE Peer Mentor, you must:
have successfully completed an FYE course
have completed a minimum of 24 credit hours
be in good academic standing (3.0 grade point average minimum)
have completed our rigorous training program for Peer Mentors.
Application Process
FYE Peer Mentors will be selected late spring or early summer, will attend a three-day training period (with pay) before school starts and then will remain as Peer Mentors for an academic year. 
FYE Peer Mentors must be recommended by an FYE faculty member or an FYE Peer Mentor in order to receive an application packet. Speak with your FYE faculty member or an FYE Peer Mentor to discuss why you would like to be a Peer Mentor.
Once the FYE faculty member or FYE Peer Mentor recommends you, you will be contacted and you will receive an application to fill out.
The completed applications will be reviewed by a group that includes the Executive Director of Student Success and Retention, the Director of the Learning Support Center, and a current FYE Peer Mentor. That group will read through your application, check your grade point average and contact the faculty member or student who recommended you.
The team will choose students to proceed to the next step of the process, which is an in-person interview with members of the Peer Mentor family.
After that interview, the group will jointly decide who will be FYE Peer Mentors for the next year.
Responsibilities
The responsibilities of an FYE Peer Mentor include:
Attend one class session of the mentor's assigned FYE class and maintain individual mentoring hours 
Implement study groups as needed 
Meet minimally twice a month during the semester with the mentor's assigned FYE class instructor 
Attend twice-monthly meetings with Peer Mentor Supervisors
Complete required reports and participate in project evaluation 
Refer students to Northeastern resources
Maintain a commitment to the program for an entire academic year 
Participate in a training program during the summer 
Coordinate co-curricular activities and conduct team building activities 
Maintain regular and consistent email communication with mentee through a NEIUport group. 
Benefits
The following are some of the benefits of being an FYE Peer Mentor:
Increase your knowledge of Northeastern Illinois University 
Develop relationships with Northeastern faculty, staff, and students 
Develop leadership skills 
Contribute to the success of other students
Earn $10.05 per hour.