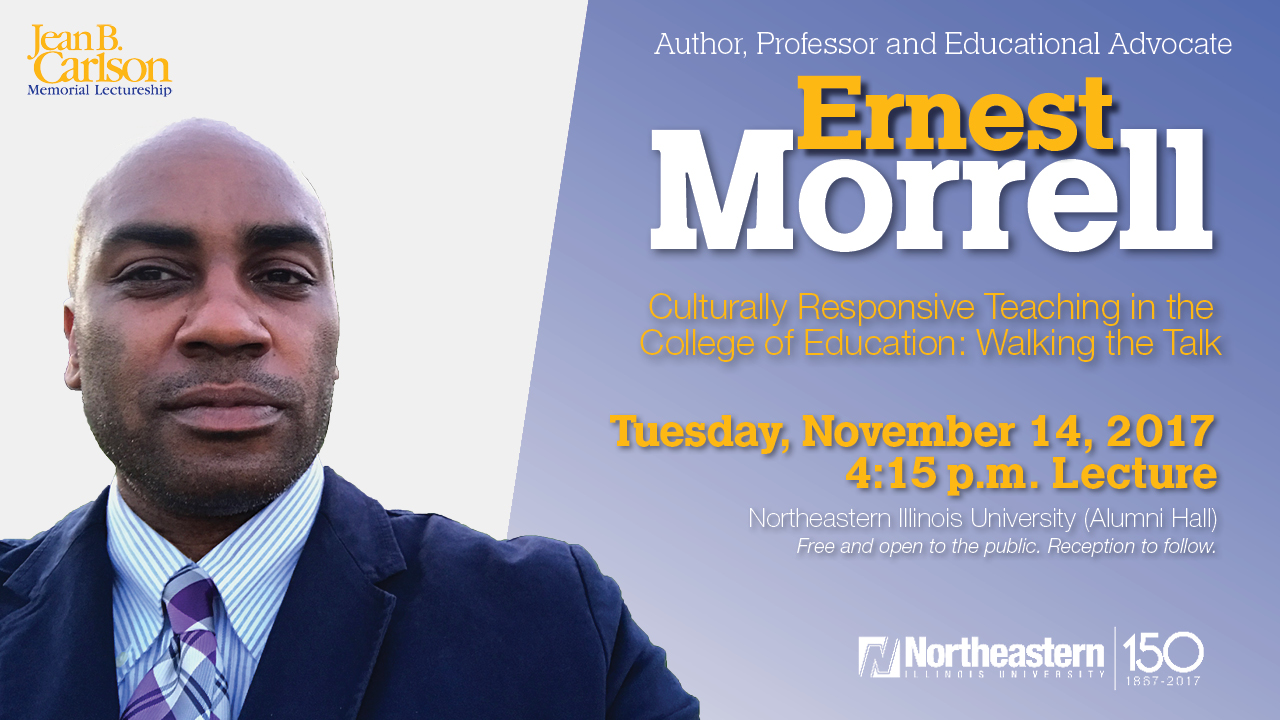 Join us for the 6th Annual Carlson Memorial Lectureship on Tuesday, Nov. 14, 2017, in Alumni Hall, 3701 W. Bryn Mawr Ave. at 4 p.m. followed by a reception. This year's distinguished keynote speaker is Dr. Ernest Morrell. He is an expert in critical educational theory, social movement theory, English education and African diaspora popular culture. He has been appointed Coyle Professor in Literacy Education and inaugural director of the Center for Literacy Education in the University of Notre Dame's Institute for Educational Initiatives. He is the author of several books, including "Critical Media Pedagogy: Teaching for Achievement in City Schools," which won Choice Magazine's Outstanding Academic Title Award in 2014.
Past Lecturers:
Dr. Michael W. Apple  (2017) 
Dr. Apple is the John Bascom Professor of Curriculum and Instruction and Educational Policy Studies at the University of Wisconsin, Madison. He has been selected as one of the 50 most important educational scholars in the 20th century.
Dr. Kevin Kumashiro (2015)
Dr. Kumashiro is the dean of the School of Education at the University of San Fransico. He is an award-winning author and editor of 10 books on education and social justice. Dr. Kumashiro discussed the topic of school reform and spoke with students after the lecture. 
Dr. Angela Valenzuela (2014)
Dr. Valenzuela is professor of Educational Policy and Planning at the University of Texas at Austin. Her discussion focused on educational equity and the policy imperative. Dr. Valenzuela's research and teaching interests are in the sociology of education, minority youth in schools, educational policy, and urban education reform.
Mr. Oliver Stone and Dr. Peter Kuznick (2013)
Oliver Stone is a distinguished screenwriter, producer and director who has won four Academy Awards and three Golden Globe Awards for his extensive film work. Among his most well-known works are "Natural Born Killers", "Born on the Fourth of July", "JFK", "Wall Street", and "Platoon". He has also directed documentaries including "Comandante", "Persona Non Grata" and "Looking for Fidel".
Dr. Peter Kuznick is a professor of history at American University (AU) in Washington, DC, where he teaches courses on 20th century American history. He also directs the award-winning Nuclear Studies Institute at AU. As a noted historian, he writes and lectures frequently about politics and science, Cold War culture and nuclear history. 
 Dr. Freeman Hrabowski, III (2012)
Since 1992, Dr. Freeman A. Hrabowski, III has served as the president of the University of Maryland, Baltimore County. In 2009, Time magazine named him One of America's Ten Best College Presidents, and in 2010 he won the TIAA-CREF Theodore M. Hesburgh Award for Leadership Excellence and the Carnegie Corporation of New York's Academic Leadership Award. Dr. Hrabowski's research focuses on science and math education, with special emphasis on minority participation and performance.
About the lectureship:
Dr. Jean B. Carlson (1922-2010) taught at Northeastern Illinois University (NEIU) in the Educational Foundations Department for 18 years, serving as chair of the department from 1977 to her retirement in 1989. In 1991, Dr. Carlson served as acting dean of the College of Education while conducting the search for the next dean. In honor and recognition of Dr. Carlson's contributions to the NEIU community, the Dr. Jean B. Carlson Memorial Lectureship was established by her friends and family. It is the first endowed lecture at Northeastern Illinois University.