Alpha Upsilon Alpha is an honor society of the International  Reading Association that recognizes and encourages scholarship, leadership, and service in the field of literacy. Our goal is to stimulate interest in the field of literacy and develop an appreciation for the multiple dimensions of literacy in society, the need for effective teaching of literacy at all levels, and the ever-increasing literacy demands of modern society. 
Beta Omicron is the NEIU Chapter of Alpha Upsilon Alpha. We sponsor book discussions that focus on children's and young adult literature as well as professional books and articles. Beta Omicron is a great way to connect with other literacy professionals and to explore our shared passion for literacy.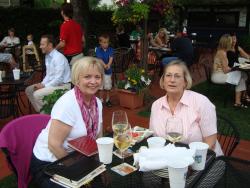 Book discussion groups and outings are a great way for faculty, students, and alumni to stay in touch and continue to share their love for literacy!