Our department has a strong tradition of student research and internships. You can get involved in cutting-edge research, gain valuable experience, explore career options, and strengthen your résumé. We will help you find a project that fits your interests and career goals. Here are some recent examples.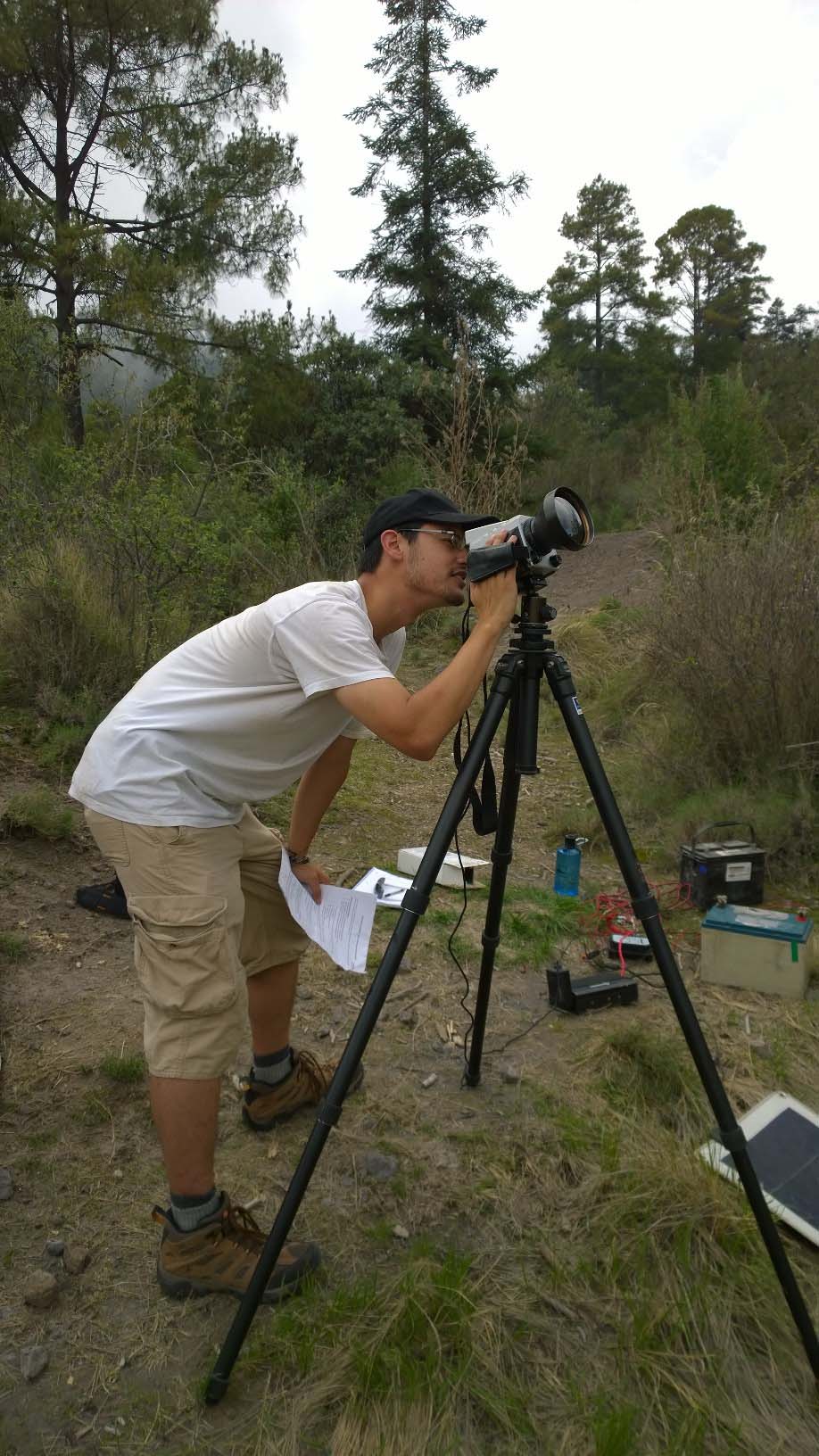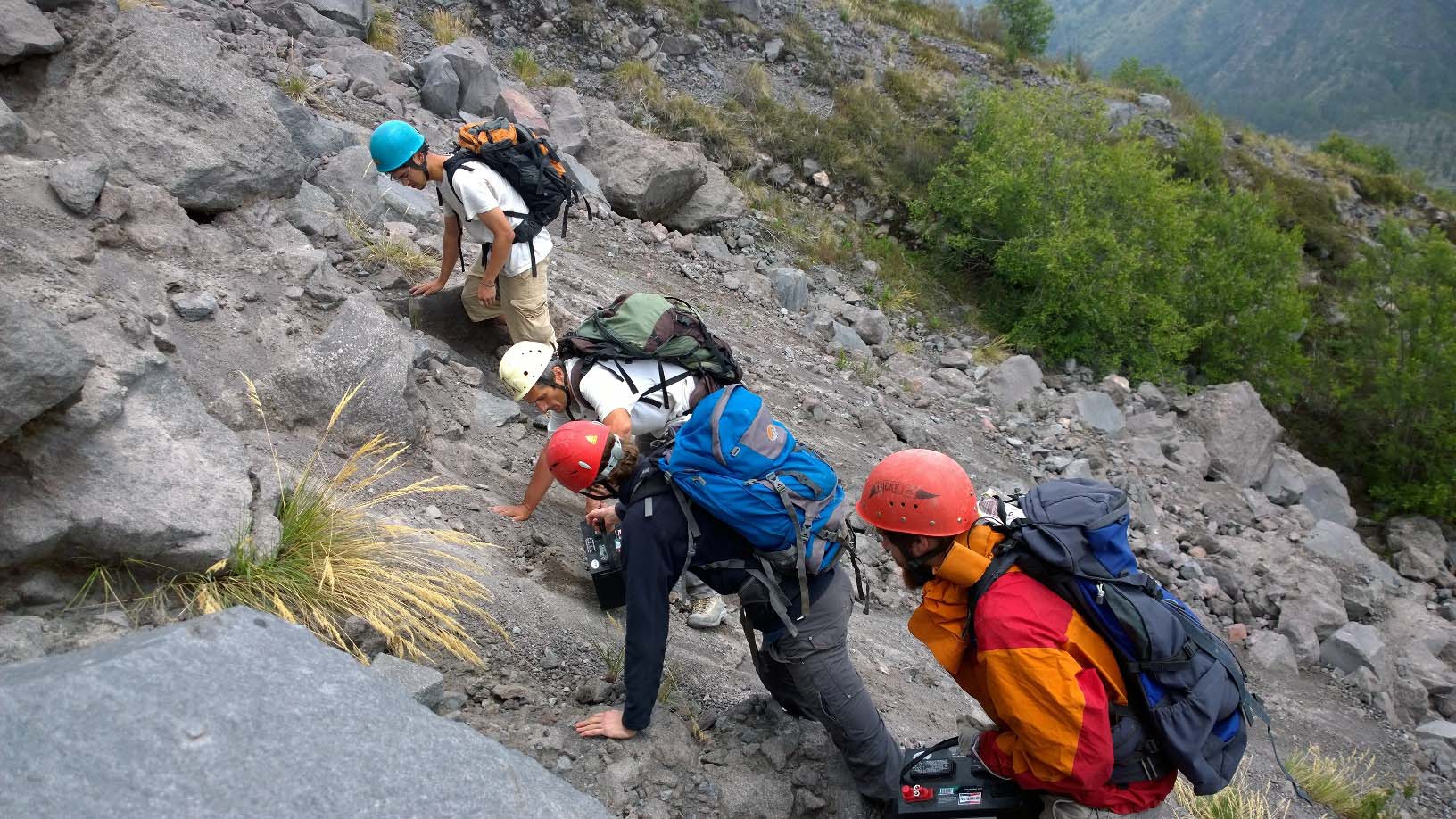 Earth Science and Physics double major Tom McLaughlin conducted research on Volcán de Colima, Mexico. Tom spent nine weeks researching volcano seismology in his internship at the Centre of Exchange and Research in Volcanology at the Universidad de Colima, Mexico. He was particularly excited about the internship because it was a brand new experience and gaves him the opportunity to work in the field as a geophysicist. Here, he works on a thermal camera aimed at Colima. At right, Tom (upper left in the photo) helps the team haul instrumentation up the slope of the volcano.
Earth Science major Bella Arroyo interned at the USDA National Soil Erosion Research Laboratory in West Lafayette, Indiana. At left, Bella solders equipment that will be used in the field. At right, she sieves soil samples to prepare them for lab testing.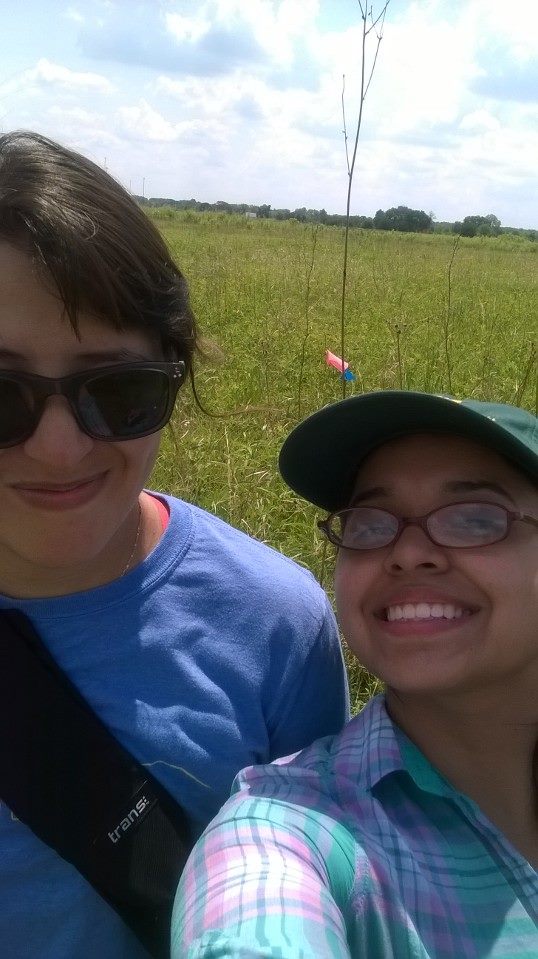 Earth Science majors Yesenia Herrera and Paty Jaimes help restore a prairie on their summer internship with the USDA Forest Service at the Midewin National Tallgrass Prairie in Wilmington, Illinois. As McNair Scholars, Yesenia and Paty have significant experience conducting research and presenting it at scientific conferences. Yesenia studied carbon and oxygen isotope chemistry of limestone during a summer research opportunity at Stanford University. Paty studied the North Branch of the Chicago River to try to find ways to help protect the Albany Park neighborhood from flooding.
Earth Science major Mariah Green prepares soil samples as part of her summer internship at the National Soil Erosion Research Laboratory in West Lafayette, Indiana. This is Mariah's second USDA lab: She also spent spring break with USDA scientists as part of the NEIU/USDA Spring Immersion program. At the National Center for Agricultural Utilization Research in Peoria, Illinois, she studied ways to create new polymers from agricultural products.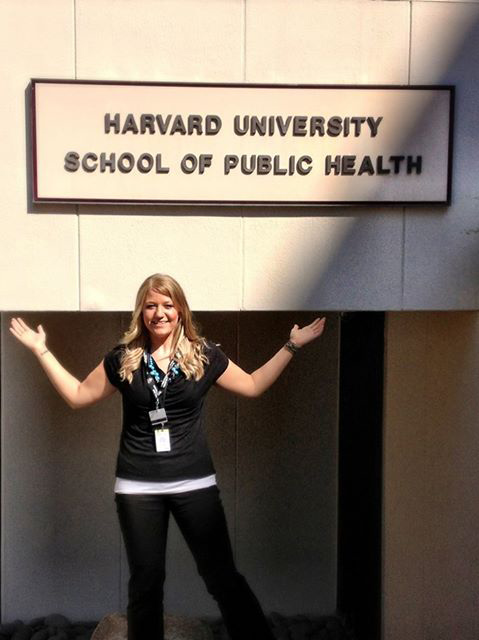 Jenna Palmer, a double major in Earth Science and Applied Mathematics, participated in a summer program at the Harvard School of Public Health. She spent four weeks doing research in epidemiology. Working with a renowned statistical geneticist, she investigated the degree to which certain genetic variants can be associated with Type II Diabetes. The following summer, she went to Brown University in Providence, Rhode Island for an 8-week Research Experience for Undergraduates on "Integrating Dynamics and Stochastics", working with a team on projects involving dynamical systems and probability theory.
Earth Science major James Beer helps a crew collecting ditch sediments during his internship at the National Soil Erosion Research Laboratory in Indiana. James is studying microcystins, a toxic cyanobacteria (blue-green algae, aka pond scum). He and his research team hope to find a better way to treat water to remove the harmful material.
Earth Science majors Jazmin Villegas (left) and Michelle Vasquez (right) run experiments at the National Soil Erosion Research Laboratory in Indiana. Jazmin rakes the big box of soil smooth, and then an indoor rain-maker simulates a storm that causes erosion and runoff. Michelle, working in a raincoat to stay dry in the indoor rainstorm, takes samples of runoff at timed intervals. These two students and their co-workers are investigating how to prevent soil erosion and keep fertilizers on agricultural fields from running off and polluting rivers and lakes.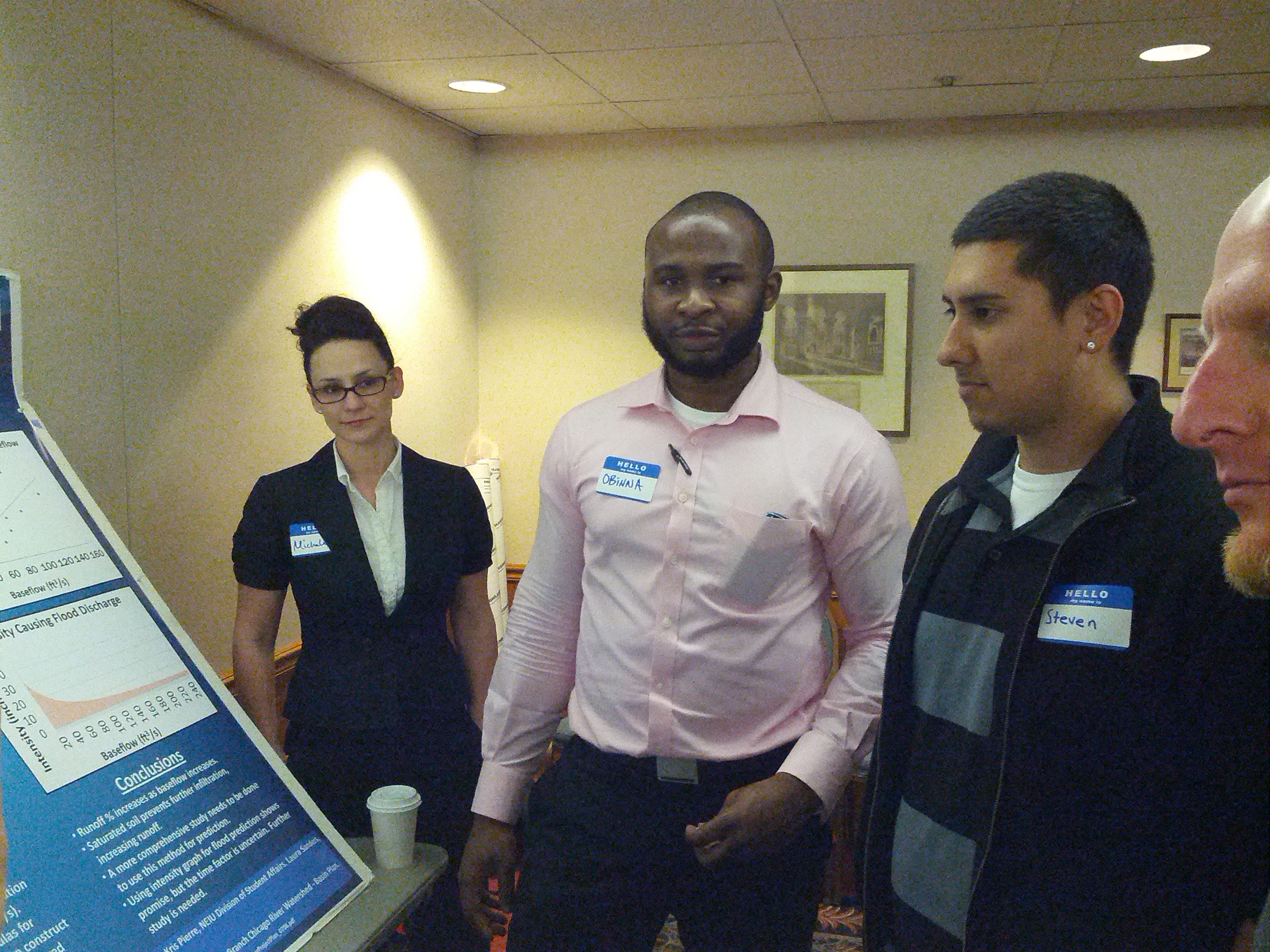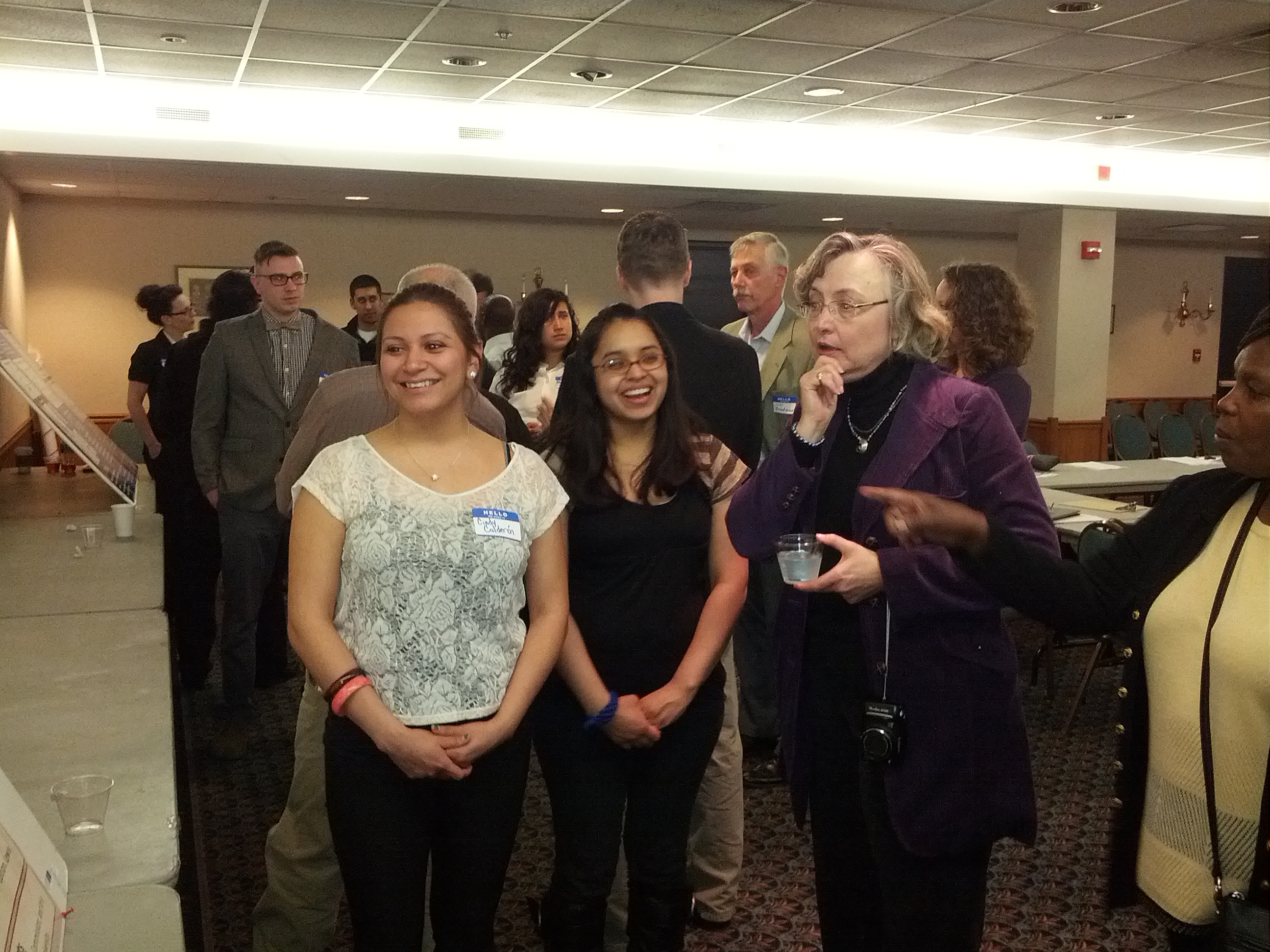 Students in the Environmental Hydrology course researched flooding problems in Albany Park and presented their results to the North River Commission, a local citizen's group. The students made recommendations to the community on how to reduce damage due to flooding.