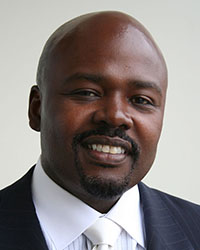 Northeastern Illinois University will host the "Telling Our Own Stories" Community Writing Workshop run by Chicago Sun-Times journalist and author John Fountain from Sept. 28 through Oct. 19 at the Jacob H. Carruthers Center for Inner City Studies. A kickoff presentation will take place Sept. 26.
These workshops are intended to encourage personal story-writing as a way to provide the first drafts of history, uncover the stories that often go missing—particularly those from poor and minority communities—and to promote an insider perspective on people, problems and possibilities in a community, neighborhood and city.
Fountain, the series facilitator, is an award-winning columnist, journalist, professor, publisher and author of "True Vine: A Young Black Man's Journey of Faith, Hope and Clarity"; and "Dear Dad: Reflections on Fatherhood." A native of Chicago's West Side, Fountain is a tenured full professor of journalism at Roosevelt University and writes a weekly Sunday column for the Chicago Sun-Times.
The series is free and open to the public. RSVP is required for the four workshop sessions but not for the Sept. 26 kickoff event. The kickoff event begins at 7 p.m., and all workshops run from 1-3:30 p.m.
This series is co-sponsored by the Carruthers Center, the Angelina Pedroso Center for Diversity and Intercultural Affairs, and the African and African American Studies program.
Program Outline
"Writing Our Own Stories," Sept. 26
We provide an overview on the importance of the personal narrative from slave narratives to the Kerner Commission Report to the body of African-American literature; why telling our own stories is critical; the past and present tools and vehicles of publication; how to develop the craft of storytelling (editing, writing, rewriting); and the importance of not only writing but publishing what we write.
Workshop Sessions
"Just the Facts Ma'am," Sept. 28
We explore the history of journalism, examining the contributions of African Americans and the rise of minorities in American newsrooms while also introducing students to basic reporting and news writing skills, including interviewing, note taking, sourcing, hard news writing and feature writing (including spoken word and poetry), and a discussion on ethics.
"This I Believe," Oct. 5
We discuss what makes a story, emphasizing the elements of effective storytelling, exploring writing feature leads, story structure and development, editing, and the use of active rather than passive voice, the incorporation of sensory detail and the methods of "hooking" readers.
"Tell Me a Story," Oct. 12
We discuss students' experience or writing/reporting their essays/stories. Students read their work in a hands-on group session and receive feedback from the workshop's coordinator and fellow writers.
"Final Cut," Oct. 19
We discuss students' essays/stories. Final works are read aloud/performed before group, followed by constructive feedback.